Online Solo Retreat
During this time of social distancing, this online retreat format offers a way to meditate in your own physical space while meeting daily with a meditation teacher via video technology .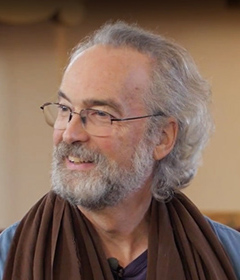 &nbsp
Led by
&nbsp
When and Where
A solo retreat can be arranged for any mutually convenient time. The length of the retreat can vary depending on your needs.
&nbsp
Format
You'll meditate at home or some other site of your choosing. Each day you and I will have a virtual meeting (on Zoom, phone, or other technology) to explore your unfolding practice. I'll offer specific guidance based on your emerging experience.
In addition, if you'd like the equivalent of a dhamma talk, there are lots of printed and online resources. I will help you find material relevant to your practice.
The solo format offers flexibility as to the length and calendaring of the retreat, more one-on-one time with me, and greater ease in exploring topics relative to your unfolding.
&nbsp
Cost
The daily interviews and on-going instructions are offered freely. Donations (dana) may be given to further my teaching and are gratefully accepted. They help me make ends meet.
&nbsp
Information and Sign Up
For more information and sign up, send me a note:
&nbsp