Summary from God(s) and Consciousness.
Other chapters: Introduction: Why Is There Anything?1. The Widening Circle, 2. Spiritual Literacy, 3. Consciousness, and 4. Is God Real?
God(s) and Consciousness: Summary
&nbsp
Stages of Consciousness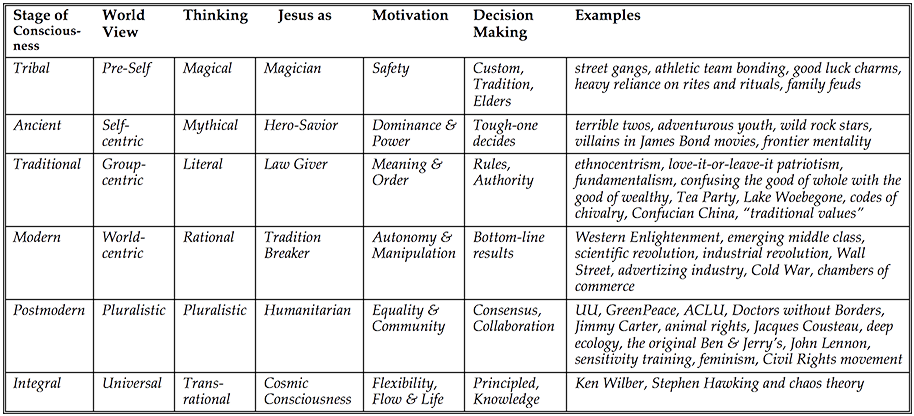 This highly condensed table summaries various worldviews, ways of thinking, views of Jesus, motivations, etc., and shows how they relate to various stages of consciousness.
&nbsp
Views of God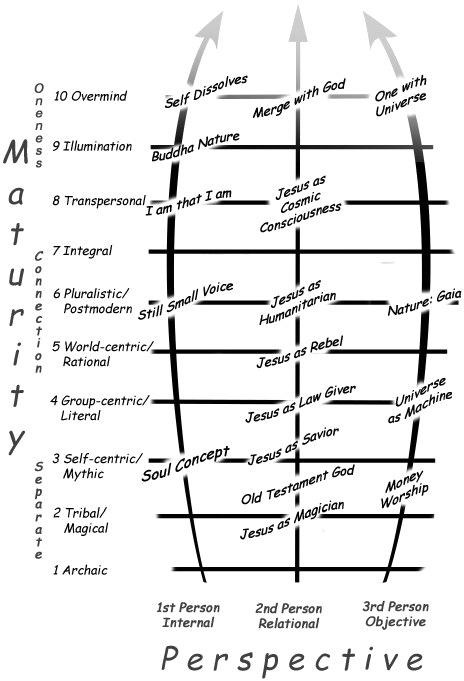 The diagram to the left shows how images of gods relate to stages (maturity) of consciousness as seen from the three perspectives: internal, relational, and objective. It illustrates the many faces of god believed by various groups of people.
To unpack this table and diagram, look at the various talks listed at the bottom of this page or look up similar writings.
The table and diagram have been drawn and adapted from the work of Ken Wilber and Don Beck and Christopher Cowen. A good place to begin with these authors is Ken Wilber's Integral Spirituality, (Integral Books, 2007) and Don Beck and Christopher Cowan's Spiral Dynamics, (Blackwell Publishing, 2006)
&nbsp
Reflections and Questions:
To relate stages of consciousness to daily living, one place to start is reflecting on the following:
Think of some person in your life you have difficulty understanding. You can't understand they way they think or they can't understand the way you think. Perhaps you get disagree often. Or perhaps you get along by steering away from certain topics. Or perhaps you get along by keeping things superficial. Or perhaps you never get along at all.
See if you can identify the stage of consciousness in which they are thinking/perceiving/ascribing meaning. Sometimes (but not always!) this is an area where you and they operate out of different stages of consciousness (at least on that topic). See if you can identify yours and their stages of consciousness.
Hint: to do this it is helpful to look at HOW they think about the topic – and how you think – more than WHAT they think. That is, how they or you PROCESS information and assign meaning more than the CONCLUSIONS they reach or you reach.
Extra credit: What is valuable and what is problematic about how they perceive/feel/think about this topic? What is valuable and what is problematic about how you see or ascribe meaning on this topic?
Copyright 2012 by Doug Kraft

This document is licensed under a Creative Commons Attribution-NonCommercial 4.0 International License. You are welcome to use all or part of it for non-commercial purposes as long as you credit the author. Specific licensing details are here.
How to cite this document (a suggested style): "God(s) and Consciousness: Summary" by Doug Kraft, www.dougkraft.com/?p=Gods5Summary.
&nbsp
Read more: