Available in Paperback ($22) and Kindle ($9).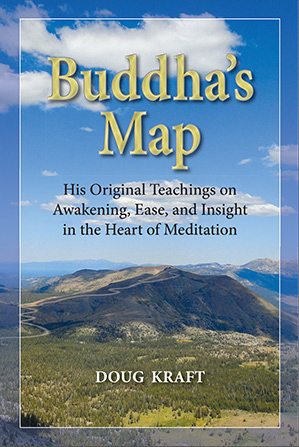 "A clear and wise description of meditation practice which will be helpful to many, especially to those who have dedicated themselves to a deep exploration of the Buddha's path."
A sweet, wise and spacious aliveness imbues every moment. It's so clear, quiet and unchanging that it draws no attention. We can go an entire lifetime without noticing it. Yet, it is there. The Buddha called it "Awakening" or the "End of Suffering." He didn't talk about it but rather taught a way to cultivate the direct experience of it. This experience is what counts.
Many contemporary schools of Buddhism have drifted away from the Buddha's original teachings over the centuries. Now, we can still find His elegant, nuanced and efficient path.
Buddha's Map is the tale of Doug Kraft's journey down this awakening path, his experience of spaces within himself he never thought possible. Easy to read yet an elegant combination of autobiography and instruction. Buddha's Map offers rare and intimate insight into the meditative states Buddhist monks are not allowed to discuss. With clear and direct advice, Kraft shares his belief in everyone's capacity to experience the ultimate in the original Buddhist meditation practice.
"I was pleased to find the Buddha's original teachings in the pages of this book. Doug Kraft narrates his personal encounter with these practices and the transformative effects they had on him. Experienced meditators will find ways to help their practices soar. New meditators will find clear instructions and ways to use their life experiences to deepen their spirituality."
Also see Beginning the Journey, Kindness and Wisdom Practice, Befriending the Mind, Meditator's Field Guide, and Resting in the Waves, and Presence.
&nbsp
Extended Excerpts
Chapter 1: From Stubbornness to Ease
Chapter 5: Thriving in Difficult Times
&nbsp
More Endorsements
"Buddha's Map is filled with psychological and spiritual insights from one who has traveled far. It is an easy read, guiding the way through the mysteries of the Buddha's teachings about meditation, wisdom, and well-being."
"Doug Kraft's book, Buddha's Map , a meditative life-saver for me. As a long-time meditator, I have never found such clear, authentic, intimate explanation of the meditative process and the various meditative states. Kraft's personal experiences also created a significant encouragement for me. This book provides the direct path experience of the spacious but quiet, alive, unchanging awareness that we all seek."
"Doug Kraft is one the most insightful Buddhist practitioners I have encountered. He brings Buddha's practical teachings and techniques of meditation to life with his vivid and accessible writing. Beginners and advanced students alike will find this volume a valuable companion on the Buddha way."
&nbsp
Comments
&nbsp